Winemaking
We firmly believe that winemaking starts in the vineyard. We take care of our noble land nurturing it with careful work and with respect for our people. We have a philosophy of minimal intervention, so that the wines are faithful to the land and to the distinctive character of the grape varieties that it gives us.
TerraNoble's seal is fresh, expressive and friendly wines.
Winery
Located in the San Clemente sector in the Maule Valley, our winery was conceived to respect the natural sequence in making our wines allowing to integrate the processes in a fluid way. Manipulation of the fruit is minimized striving to maintain its essence in each of the stages of winemaking.
Respect to our Origin
At TerraNoble we recognize the virtues of our land and the environment. This is why, in crafting our wines, we seek to express the flavors, textures and aromas that our terroir gives us with respect it and taking care of it, grateful for what it gives us.
We endorse this commitment by observing the protocols of the Sustainable Wine of Chile Code. Under this code we certify that our work complies with strict vineyard and winery management protocols, and in our relationship with our team and with the San Clemente community where we are neighbors and the Maule region in general as well.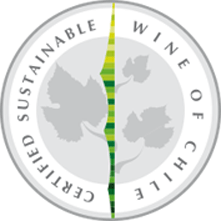 Esta certificación asegura que todo nuestro quehacer cumple con estrictos protocolos de manejo de los viñedos, al interior de nuestra bodega en todos los procesos que en ella se realiza y en la relación que mantenemos con nuestros colaboradores y con la comunidad de San Clemente donde somos vecinos y con la región del Maule en general.
Promoting Biodiversity 
To protect and improve the biodiversity in our vineyards, we participate in "Operation Pollinator" a program developed globally by Syngenta. The aim of this initiative is to increase the number of pollinating insects on agricultural lands by creating specific habitats, adapted to local conditions and native insects. By combining selected flower seeds and innovative field management practices, it seeks to benefit pollinators such as bees promoting their growth, development and action in agriculture.
Energy Saving Initiative
We are moving towards the use of renewable energy sources both in our fields and in the winery. In our Los Cactus vineyard in the Colchagua Valley we are running a pilot program for electric generation by means of solar panels that allows us to supply modernized irrigation equipment with energy.
Community Outreach
Alliance with the San Agustín Technical Training Center. Viticulture Technicians graduate from this center and as part of their studies they carry out internships in our winery during the harvest season.
Alliance with the Santa Marta de Talca Technical College for its students to carry out internships during their studies.
Support to the San Clemente Parish in its campaign "Sharing what we are and have".
Collaboration with the "Casas Viejas" county Community Board close to our winery.
Members of the Maule Valley Wine Route, actively supporting together with other vineyards of the valley, the promotion and positioning of the valley as a historic  denomination of origin recognized for the quality of its wines.